Nova Kitchen, a boutique fine-dining restaurant & bar located in the heart of Blauvelt, New York.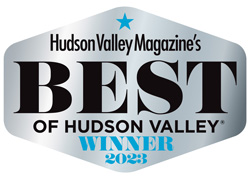 Serving contemporary American fare in a stunning dining space, Nova Kitchen offers fresh and unconventional dishes, as well as an extensive cocktails menu.
The restaurant is relatively new to the diverse New York food scene, but the founders are no strangers to the industry! Nova Kitchen is the brainchild of a true power couple, Mabel and Rogelio Rosas. They both began their careers in the hospitality industry at a young age, learning the ropes and falling in love with restaurant life. Over the years, Mabel worked her way up from busgirl to manager. Rogelio went from dishwasher to head chef, earning an outstanding reputation for his love of creative dish concepts and quality ingredients. In fact, Rogelio was the Rockland County Food Fight Champion (2019), which is a testament to his commitment and love of everything related to food and cooking!
Today, Mabel and Rogelio are at the peak of their craft and are looking forward to pouring their love of great food and industry knowledge into Nova Kitchen. Rogelio continues to use locally sourced seasonal ingredients to create innovative daily specials. Mabel and Rogelio's incredible journey to becoming local restauranteurs is truly a proof of their tireless efforts and passion fulfilled energy to turn this dream into reality.
Nova Kitchen is more than just a restaurant. It's a place for people to come together and experience unforgettable moments. The word "Nova" actually means "a star which suddenly increases its light output." A warm attitude is decidedly what you'll find here, as the staff is dedicated to welcoming guests with positivity and friendliness.
Nova Kitchen is the perfect spot for people looking for welcoming ambiance with a focus on exceptional food.